Are you looking for the best way to organize LEGOS?
We are a LEGO loving family, but when it comes to putting them away, it is more of a love/ hate relationship.
LEGOs were taking over my house and I know you can feel my pain when I talk about stepping on a LEGO barefoot.
I mean, if LEGOs were around, they could have been used for medieval torture. This is basically what training to be a mother should look like: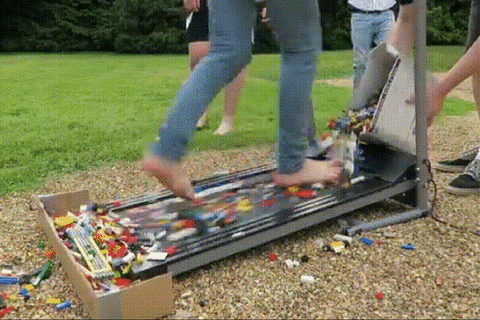 LEGOS are great for the imagination. The boys love their LEGOs and I love how creative they are with them. I am constantly amazed by my five year old's ability to put together a LEGO set made for a 14 year old, then completely dismantle it and start again. It teaches them to follow directions, learn patience and practice concentration.
The more LEGO sets that we collected, the harder it became to organize them. In a perfect world, I would have them organized by sets, but now I am just happy if they are off the floor. Amirite?
I had to come up with a system that was easy for the kids to do on their own and there are a few products out there that really helped with that. This is how we organize to keep mommy's sanity.
The best way to organize LEGOS
IKEA Trofast bins- It is like these were made for LEGO sorting. When we only had a few LEGO sets, we used a bin for each one. You can also organize them by color if that is easier. I'm not going to act like a hero… now we just dump them all in.
But the beauty of these bins are that they are inexpensive and they come in different sizes and colors so you can fit your space. I also love that the bins slide right out, so my kids can take whichever one they need to where they want to set up.
It makes is just as easy for me to pick up the pieces all over the floor when I can just carry a bin around with me during clean up. We have a bin for the booklets and one for minifigs. Seriously, this thing is awesome.
Once our collection became pretty extensive, we had to find a way to sort all of the small pieces. We purchased these stackable craft organizing drawers at the Container Store.
We categorized and labeled them to make pieces easy to find. The little drawers come all the way out, so they can take them to where they are building and dig for what they need.
The baby still loves her Duplos but they are just in a big bin. No need for sorting.
What to do with LEGOs when you are done with them
I can't bare to think about my kids growing out of their beloved LEGOs, but when that time comes, there are some great organizations that would love to take them off your hands.
Since they are made of Plastic #7, they can not be recycled and will just end up in a landfill. I would recommend BrickRecycler. Just put your old LEGOs in a plastic bag and ship them off to find a new home.
You don't have to sort them and the sets don't have to be complete. They will do all of the work on their end to get them back together and in small hands that need them.
Your old LEGOs will be donated to children in hospitals or orphanages all over the world.
Their shipping address is:
BrickRecycler
Guaranteed Express
652 N. King Rd.
San Jose, CA 95133
I hope this gives you some ideas for keeping your sanity with LEGOS. I have found this to be the best way to organize LEGOS. Happy building!
Related:
LEGOLAND Discovery Center in Boston- Where everything is awesome!
Pin for later-